Bay wins second consecutive regional tournament
Thursday, March 3, 2016
Bay (33-7) raced out to a 12-0 lead and never looked back as the Yellowjackets beat Izard County Consolidated (ICC) 81-63 this past Saturday in Bay to win the 1A-2 Regional Tournament title for the second straight year.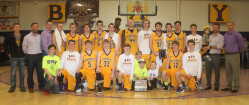 Robert McFadden scored the first seven points of the game for Bay with two three-pointers and one of two free throws to make the score 7-0 Bay. Taylor Layne canned a there-pointer for the Yellowjacekts and Jonathan Crain scored indie to make the score 12-0 Bay. Tanner Brooks scored ICC's first points with two free throws only to see McFadden get a stick back basket and Dustin Utley hit a jumper for Bay to make the score 16-2 Bay. Andrew Walker scored back to back baskets for the Cougars to make it 16-6 only to see Layne score inside and hit two technical free throws after ICC head coach Kyle McCandis was whistled for a technical foul to make it 20-6 Bay. McFadden hit a running jumper in the lane for Bay and Rory Bell scored inside for ICC before ICC's bench had a technical foul called on them with Layne hitting another two technical free throws making the score 24-8 Yellowjackets with 1:32 left. Utley got a stick back basket for Bay and Colby Jones scored inside again for the Cougars to make the score 26-10 after one quarter of play.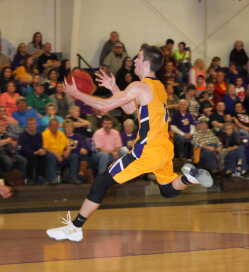 Full game story in March 3 Democrat Tribune!