Bay cruises in state tournament opener
Thursday, March 3, 2016
Bay (35-7) got off to a slow start as they trailed for most of the first three minutes of the game. The Yellowjackets took their first lead with just under five minutes left in the opening quarter and never looked back as they posted a 68-44 in the opening round of the 1A State Tournament being played at Brockwell.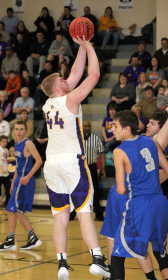 Brooks Tipton opened the game for MVE with a three-pointer making it 3-0 as Jonathan Crain answered with a jumper for Bay to make it 3-2. Taylor Layne followed with a three-pointer for the Yellowjackets to make it 5-3 before Logan Adcock canned a three-pointer for MVE to make the score 6-5 Warhawks. Crain hit one of two free throws for Bay and Adcock hit one of two free throws for MVE making it 7-6 Warhawks. Bay scored the next five points as Dustin Utley rebounded his own miss and scored, Tyler Pritchett netted a jumper and McFadden hit one of two free throws to make the score 11-7 Bay. Kanyin Martin scored inside for the Warhawks to make it 11-9 only to see Bay get one of two free throws from Crain, a steal and lay up from Pritchett followed by a three-ball from Pritchett and a stick back basket from Crain to make the score 19-9 Yellowjackets. Martin converted a conventional three-point play for MVE to make the score 19-12 Bay at the end of one.
Full story in March 3 edition of PCDT!