Stepping Stone Sanctuary to help homeless in Trumann
Saturday, March 5, 2016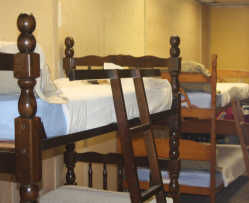 Sometimes one service project leads directly to another. That's been the case with Stepping Stone Sanctuary, which developed out of First United Methodist Church's community garden in Trumann. Pastor Jeff Weaver, who spearheaded the community garden in 2014, said he saw the need for a homeless shelter during 2015's harvest at the garden.
"Last year, at the end of the year during harvest, we found a lady living in the community garden. She was homeless and couldn't find a place to stay," Weaver said. That led to the idea of starting up a homeless shelter in Trumann.
Weaver talked to the mayor about the idea for a homeless shelter and put together a board of 12 people to oversee the project. Together with around 30 volunteers--and support from Arkansas Food Bank, Walmart, Dixie Gin, Ashley Lighting, Roach Manufacturing, Columbia Forest Products, Taylor and Stuckey, and St. Bernards--Stepping Stone Sanctuary is becoming a reality.
Located at 912 W. Speedway, Stepping Stone Sanctuary will serve as a homeless shelter, food pantry, and soup kitchen when it opens. The shelter will be able to house eight men and eight women. In addition to these rooms, there will also be two emergency family rooms, which could be used to temporarily house a family who have lost their home in a fire, for example.
Weaver said once they officially open, the plan for the soup kitchen will be to offer three meals a day to anyone who wants to eat. "I encourage the public to come eat," Weaver said.
The food pantry portion of Stepping Stone Sanctuary opened Feb. 17. So far, they have given out around 10,000 pounds of food. And they also have emergency food boxes prepared for families in temporary need of assistance.
"We hope to change people's lives and help them transition back into their own home," Weaver said.
The soup kitchen and homeless shelter portions are not yet open, but volunteers are working to get the facility ready to begin receiving people. They have also received a lot of help from the surrounding communities in getting the shelter together. St. Bernards donated blankets and bedsheets, Central Baptist Church in Jonesboro donated beds, the city of Trumann and First United Methodist Church in Jonesboro donated copiers, Dale's Welding donated a grill, Taylor and Stuckey--along with Adams and Cooper--donated plumbing and the showers, Columbia Forest Products donated plywood, Ridout Lumber Company donated wood to build the rooms, David Lapiro donated sheetrock, Baldwin Piano donated desks, Country Mart donated bags, Walmart donated dvd players, Roach's donated the shelving for the pantry, and Ashley Lighting donated the lighting.
Weaver said they are always in need of donations, either food or monetary, and have held various fundraisers for the shelter. Currently, they are doing a Boston Butt fundraiser for $35 which will be available for pickup Saturday, March 26, Easter weekend. For more information on the fundraiser or the shelter, contact Weaver at 870-239-1768.