Lady Yellowjackets ousted in opening round of state tournament
Monday, March 14, 2016
Bay (36-5) trailed the entire game before cutting the lead to one point with two and half minutes left in the game. Both teams went scoreless the remainder of the game as Katie Ferguson's final shot from around half court missed it's mark as Sacred Heart (28-11) escaped with a 46-45 win last Wednesday in the opening round of the girls 1A state basketball tournament being played at Izard County Consolidated High School in Brockwell.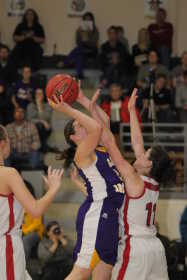 The Lady Gators put the first points on the board as Toni Malik hit two free throws and followed with basket inside as Madeline Beck canned a three-pointers to make it 7-0 Sacred Heart. Bay scored the next seven points to tie the game at 7-7 as Mallory Hartley hit one of two free throws before Whitlee Layne scored three consecutive baskets, the last off a steal by Sydney Higgins with 2:34 left. Beck got a steal and lay up before adding a base line jumper to make the score 11-7 Sacred Heart after one.
Full game story in March 10 edition of PCDT!