Lady Wildcats win conference opener against Cave City
Monday, March 14, 2016
Trumann (3-3, 2-0 4A-3) jumped out to an 3-0 lead over the Cavewomen before going on to win 12-2 in their conference opener at Trumann.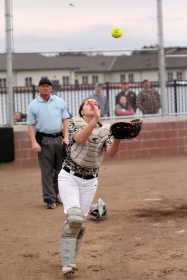 Cave City got a lead off walk in the top of first only to leave her stranded there as Lexi Jackson retired the next three batters with a strikeout and two fly outs. Jackson led off with a single for Trumann and Olivia Greenwell reached on a fielder's choice with Jackson getting thrown out trying to get to third. Taelor Gartman reached on an error that scored Greenwell to make it 1-0 Lady Wildcats. Hannah Wood walked before her and Greenwell executed a double steal to get to second and third. Daly Taylor singled to drive in Gartman and Wood making it 3-0 Trumann. Kendall Pruitt reached on an error that forced Taylor out at second before Maddi Payne lined out to third to end the first inning with Trumann up 3-0. The Cavewomen got a two out single in the top of the second but also left her stranded as Jackson struck out the next batter. The Lady Wildcats went three up three down as Misty Moye popped out to third, Sydney Callahan lined out to third and Jackson popped out to third as the score stayed 3-0 Trumann after two innings of play.
Full game article in March 10 edition of the PCDT!