Local residents compete in WABDL championship
Thursday, March 17, 2016
The World Association of Benchers and Deadlifters (WABDL) Southern National Championship was held February 27 at the Fairbridge Hotel in Jonesboro. There were 82 lifters competing in front off a crowd of over 300.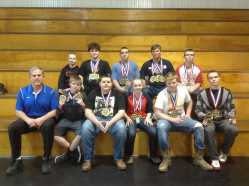 "Every lifter that competed was a winner whether they won an award or not," event organizer Eddie Morgan said. "If everybody will bring at least one new lifter for next year, we will have close to 200 lifters making it a huge event," Morgan added.
Trumann Schools had 18 participants compete in the event. Those who lifted and their results are: Ashton Creecy - 65 lbs bench press (BP) and 190 lbs dead lift (DL), David Tabor - 175 lbs (BP) and 315 lbs (DL), Joseph Allread -- 70 lbs (BP) and 175 lbs (DL), Caleb Dever -- 66 lb (BP) and 155 lbs (DL), Preston Shuburte 120 lbs (DL), Matthew Brooks -- 150 lbs (BP) and 250 lbs (DL), Savannah Allred -- 90 lbs (BP) and 175 lbs (DL), Jessica Allred -- 105 lbs (BP) and 175 lbs (DL), Ozzy Barnes -- 105 lbs (BP) and 195 lbs (DL), Charlie Brooks -- 195 lbs (BP) state record and 313 lbs (DL) and Eddie Morgan -- 281 lbs (BP) and 622 lbs (DL) for a new push pull world record of 903 pounds.
"I'd like to thank everyone who came and lifted along with those who volunteered their time to work at the event. I very big thanks to all the sponsors who helped make it a great event," Morgan said. "Hope to see more lifters out for next year's event," Morgan added.