EPC falls to Earle in 2A state title clash
Thursday, March 17, 2016
EPC couldn't find a way to stop Earle's high powered offense last Thursday night in the 2A state championship game. Each time the Warriors made a run the Bulldogs answered and slowly increased their lead after each quarter on their way to a 68-48 win last Thursday at the Bank of the Ozarks Arena in Hot Springs. The conference foes met for the fourth time this season with Earle winning each contest.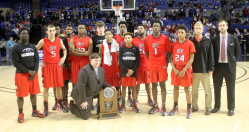 "We just couldn't get over the hump. We would get close to them and they would have an answer every time we did," EPC coach McKenzie Pierce said after the game.
Earle opened the game with a 7-0 run as Dontrell Johnson got a steal and lay up, Gerry Bohanon scored inside and Marcus Brown drilled a three-pointer causing the Warriors to call a time out with 5:20 left in the quarter. Des Barnes canned a three-pointer after the time out to give EPC its first points making it 7-3 Earle. Marcus Brown scored back to back baskets for the Bulldogs and Bohanon scored off an offensive rebound for Earle to make it 13-3 Bulldogs with 2:27 left. J'Sebian Brown and Clay Malone canned back to back three-pointers to make it 13-9 Earle only to see BJ Murray hit a jumper for Earle making the score 15-9 Earle. Xzavier Reed hit two free throws for the Warriors and Bohanon added a jumper in the lane for the Bulldogs to make the score 17-11 Earle at the end of one.
Full story in March 17 edition of PCDT!