Wildcats hang on to beat Hoxie
Thursday, March 17, 2016
Trumann jumped out to an 11-0 lead early only to see Hoxie chip away at the lead throughout the game before the Wildcats went on to post a 17-16 win in high school baseball action this past Monday in Trumann. The game had a little extra interest as Trumann's Jason Dahl coached against his brother Adam Dahl of Hoxie.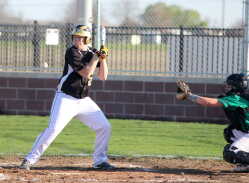 Hoxie got a runner on in the top of the first as Trumann starter Lucas Moye hit a batter with two outs before getting a fly out from the next batter to leave the runner stranded. Cade Gartman led off with a single for Trumann before advancing to second on a wild pitch. Garrett Woods singled before stealing second base to put runners on second and third. Moye walked to load the bases before Dylan Qualls scored Gartman and Woods with a single to make it 2-0 Trumann. Jarred Carter reached on an infield single only to see Connor Haag and John Dunman retire on strike outs. Alex Santos' bloop single scored Qualls and Carter to make it 4-0 Wildcats before Kevonte Andrews' grounder forced Santos out at second the end the first inning. Moye retired the Mustangs in order in the top of the second thanks to a double play after a lead off single and a ground ball out. The Wildcats sent 11 batters to plate and scored seven runs to take an 11-0 lead. Gartman led off with a single and stole second base before Woods flew out. Moye doubled to score Gartman and Qualls was hit by a pitch to put two runners on base. Carter drew a walk and Haag struck out for the second out. Dunman singled to score Moye and Qualls to make it 7-0. Santos walked to load the bases before Andrews doubled to clear the bases making it 10-0 Trumann. Gartman singled to score Andrews to make it 11-0 as Woods flew out to end the inning.
Complete game article in March 17 edition of the PCDT!