Bay wins back to back 1A state titles with 61-55 win over Emerson
Thursday, March 17, 2016
Bay (37-7) outscored Emerson (35-1) 10-4 over the last two minutes of the game as the Yellowjackets beat the Pirates 61-55 to claim the 1A state championship for the second year in a row. Bay also topped Emerson in last years' final.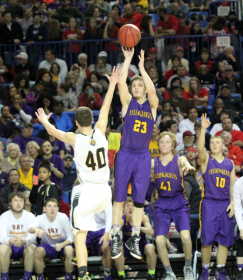 "Back to back titles is really nice I know that," Bay coach Brad Brannen said after the game. "We didn't win this game out of anger toward Emerson but out of love for each other," Brannen added.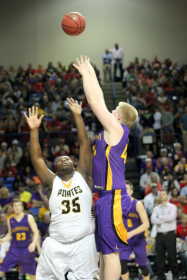 Tyler Pritchett gave Bay the early 5-0 lead with a jumper in the lane followed by a three-pointer before Emerson called a time out less than a minute into the game. Tavion Revels got a steal and lay up for Emerson only to see Jonathan Crain hit two free throws and Pritchett hit another three-pointe for the Yellowjackets to make the score 10-2 Bay. Kenneth Collins scored inside for Emerson and Robert McFadden netted a jumper for Bay making it 12-4 Yellowjackets with 3:48 left. Collins converted an old-school three-point play for Emerson to cut the lead to 12-7 Bay as the Yellowjackets took a time out. Taylor Layne hit a three-pointer for Bay after the timeout Revels added two free throws for the Pirates to make it 15-9 at the end of the the first quarter.
Pick up a copy of the March 17 edition of the PCDT for full game story and additional photos!!