I-555 designation becomes a reality
Friday, March 18, 2016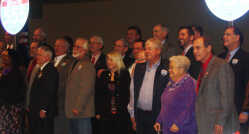 It's been a long time coming, but Interstate 555 became official during a dedication ceremony in Jonesboro last Friday that drew around 250 people.
The project to turn the 44-mile corridor running from the south junction of Highway 49 in Jonesboro to Interstate 55 in Turrell into I-555 originally began in 1968. During that time, $250 million was spent on upgrades along Highway 63 to bring it up to interstate standards. The project has been stalled over the last decade because of required access roads for farm equipment over the Sunken Lands floodway between Payneway and Marked Tree, which would have cost over $30 million to construct. But Rep. Rick Crawford and Sen. John Boozman got exemption language included a federal highway authorization bill in December 2015 which allows farm equipment to use the interstate during daylight hours.
"It literally took an act of Congress 15 years after the 'future I-555' signs went up," said Arkansas Highway Commissioner Alec Farmer. "It definitely didn't happen overnight."
When Governor Asa Hutchinson spoke, he called Farmer the master of understatement for saying this project was not an overnight success. Gov. Hutchinson said the significance of I-555 becoming a reality is that "it gives every community in Northeast Arkansas an additional calling card for economic development."
Sen. Boozman called the effort to get the exemption passed a very bi-partisan effort. "This was a great example of everybody working together and not losing heart or losing faith," Boozman said. He added that the infrastructure of an interstate is one of the first things businesses look at when looking at the possibility of moving into an area.
Rep. Rick Crawford said I-555 would benefit the whole region. "This will revitalize communities all along I-555," Crawford said. "It doesn't stop in Jonesboro. Economic activity along I-555 will enhance all of Northeast Arkansas."
Crawford also noted that something as small as being able to check a box saying the area has interstate access will have a huge difference for economic development. "We had an interstate all along. It was built to specs. It's great. But we couldn't check the box," Crawford said.
According to Arkansas State Highway and Transportation Director Scott Bennett, crews started replacing Highway 63 signs with I-555 signs Monday and will have 740 signs to replace along the 44-mile stretch of interstate.