Crawford speaks at Marked Tree Chamber banquet
Friday, March 18, 2016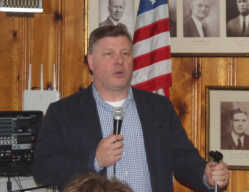 Since the Marked Tree Chamber of Commerce's annual banquet and auction happened the same week as the official dedication of I-555, it seemed natural that the new interstate designation was the core topic for Congressman Rick Crawford, who served as keynote speaker.
Crawford called the interstate designation a good thing for Northeast Arkansas. "If you're trying to attract business to a community, one of the first things you need is interstate access," Crawford said.
Crawford called the solution "less about money and more about creative thinking." The last hang-up on getting the designation was a requirement to construct an access road for farm equipment between Payneway and Marked Tree. This road would have cost around $33 million to build.
Crawford and Senator John Boozman got farm vehicle exemption language included in a federal highway authorization bill in December 2015, which allows farm vehicles on the interstate during daylight hours. Crawford thanked Boozman and the state legislature for the help they provided in getting the waiver through. "This is how government is supposed to work," Crawford said.
During the banquet, the chamber gave out an award for community service to Jim and Melba Berry, an award for outstanding leadership to Sheriff Larry Mills, a certificate and check of appreciation to Bill Stanley and Danny Johnson for allowing the chamber to meet at the Elm Lodge monthly, and presented a check of appreciation to Mary Houchin.
Chamber officers for 2016 are Brittany Smallwood, president; Jeff Bookout, vice president; Samantha Harston, secretary; Pam Wright, treasurer; Mary Ann Arnold, parliamentarian and ex officio; and Sandy Teague, ex officio.