Bay splits with Mammoth Spring, Hillcrest in doubleheader tilt
Thursday, March 24, 2016
Mammoth Spring showed up ready to play and apparently Bay did not as the Bears used 14 hits and several Yellowjacket errors to post a 22-2 win this past Monday in high school baseball action in Bay.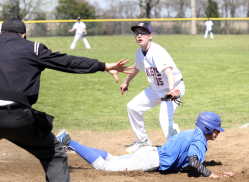 The Bears took the early 2-0 lead after the top of the first inning. Nolan Smith singled to lead off for Bay only to be left there as Jimmy DuVall popped out, Taylor Layne flew out and Jonathan Crain struck out. Mammoth Spring sent 18 batters to the plate in the top of second inning scoring 14 runs. Layne surrendered all the runs before being replaced by Jordan Jackson. Jackson gave up a hit before getting a strikeout to end the top half of the inning. Austin Jackson and Ashton Darby both struck out before Ryan Austin drew a two out walk. Austin was left on base as Kyle McAdams grounded out to end the second inning with the score 16-0 Mammoth Spring.
Full game coverage in March 24 PCDT!