Vandals break into concession stand at Cedar Park
Thursday, March 24, 2016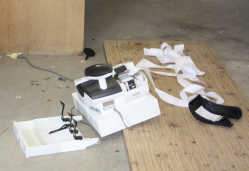 Trumann Police responded Tuesday afternoon to a report of vandalism at the concession stand at Cedar Park's ball field.
Trumann Parks and Recreation Director Scott Shankle said he has been trying to rebuild the ball field to get it ready for tee-ball and coach pitch in April. "I knew it was going to be a project," Shankle said. "It's a very sentimental field with a lot of history. I didn't want to shut it down."
Shankle said work on restoring the 80-year-old ball field began in January. New wood has been put on the bleachers, new dirt has been brought out to the field, and Shankle wants to paint and clean up the area. "It has that old ball field feel. I want to bring that back for the kids," Shankle said.
Shankle said he had brought some equipment from Fleming Field to the Cedar Park concession stand. But when he came to Cedar Park Tuesday to do some more work, he found the doorknob to the concession stand had been smashed in, and the inside had been vandalized. The popcorn machine had been torn up, and the cash register was lying broken on the floor. Shankle estimated $600 worth of damage had been caused.
According to Shankle, the fire department is planning to run the concession stand during ball season to raise money to buy Christmas presents for underprivileged children.
Anyone with information regarding who may have vandalized the Cedar Park concession stand can contact the Trumann Police at 870-483-6423 or report an anonymous tip at www.quiktip.info.