Highway department talks Poinsett County plans
Friday, April 1, 2016
City and county officials gathered in Trumann Monday to meet with officials from the Arkansas State Highway and Transportation Department to hear about funding and highway projects planned for the next five years.
The highway department recently released their Statewide Transportation Improvement Program (STIP) report for public review. The document lists a total of 700 projects planned between 2016 and 2020 around the state.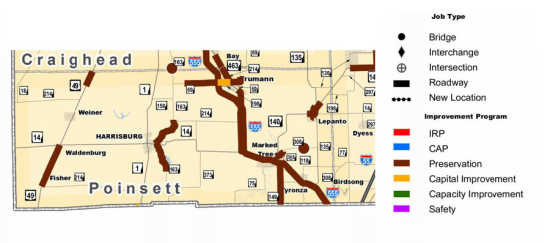 According to Arkansas Highway Commission Alec Farmer, around 80 percent of the funding in this STIP is for system preservation, which is a departure from previous STIPs. "We've got to take care of the roads we've got," Farmer said.
Kevin Thornton, Assistant Chief Engineer of Planning with the highway department, told those gathered that $47.8 million in the plan has been set aside for system preservation along the newly designated I-555. And for Poinsett County projects, a total of $75.1 million has been set aside in the plan.
The STIP report lists 16 projects for Poinsett County over the next five years, including system preservation work to sections of highways 555, 463, 308B, 163, 149, 140, 135, 69, and 49. A major widening of Highway 69 in Trumann from 63 to 463 is in the plan, along with work on the bridge on 308 near Marked Tree.
Farmer noted that none of the projects are a sure thing yet unless state lawmakers pass highway funding legislation. Farmer said the highway department needs an additional $50 million a year from the state to be eligible for $200 million worth of matching federal funds provided through the Fixing America's Surface Transportation Act (FAST Act), which was passed by Congress last December. "We don't get the $200 million in federal funding with the $50 million in state funds," Farmer said. Rep. Dwight Tosh told those gathered that he believed Governor Hutchinson is calling a special session after the regular session this year, and the only topic on the agenda is highway funding.