Pete Mead inducted into Arkansas Sports Hall of Fame
Friday, April 1, 2016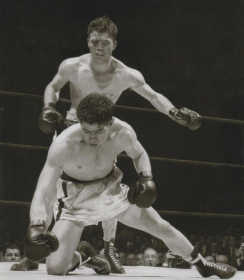 Trumann native and professional boxer Pete Mead was inducted into the Arkansas Sports Hall of Fame on March 4 at the 58th Annual Induction Ceremony at the Statehouse Convention Center in Little Rock.
Mead was born in Trumann in 1924 but lived most of his life in the Jonesboro area. Mead's first fight was part of an amateur boxing show at the Old Community House in Trumann in 1940. Mead lost that first match to Bob Biddle but beat Biddle twice before the show closed. The event organizer, Roy Sellers, told those in Grand Rapids, Mich., about Mead. Mead received a letter from J.C. Miller to join his amateur boxing show in Michigan. Mead accepted the offer.
Mead competed in the Michigan Golden Gloves boxing tournament in 1941, winning the novice lightweight division before losing in the state finals. Mead came back the next year and won the welterweight division before turning pro on Sept. 25, 1942. Mead fought eight times before being drafted by the Army in 1943.
Returning to Michigan two and a half years later, Mead resumed boxing, and a short time later Miller told him he was ready to go box in New York. Mead boxed Tommy Merrill in a six round match in Madison Square Garden (MSG) with Mead winning by decision. Mead would fight four times in MSG with one of those matches being against Joey DeJohn in 1949. This match has been labeled as the bloodiest match ever at MSG. Mead had a cut over both eyes with a cut under one eye and had his nose broken as he was knocked down seven times in the first five rounds. DeJohn was knocked down in the fifth, the first time in his career, before being knocked down three times in the seventh with Mead winning by knockout. Mead fought DeJohn twice more in his career, splitting the decisions with Mead's win coming via another knockout. Mead's last fight, coming out of retirement, was against former welterweight champion Rocky Graziano. Mead was knocked out in the third round.
Mead compiled a career record of 43-16-1, having fought in arenas in New York, Boston, Miami, and New Jersey while also have bouts in London, England. Mead earned the reputation that one better be ready to fight when one steps in the ring with him. He just doesn't quit. Just to compare the pay from Mead's days in the ring, $10,000 was his richest purse compared to the millions and millions of dollars the fighters make today.
Longtime Trumann resident Letha Owens just happened to stop by the PCDT office during the writing of this article and told a quick story about Mead. Owens knew the Mead family as their farm in the Stephens Landing area of Trumann was just down the road from her childhood home. "The country folks would all line up and down the roadsides on Speedway to listen to Pete's fight on the radio. The reception was more clear," Owens said. "It was also a fun time of camaraderie."