Frances Benson
Friday, April 1, 2016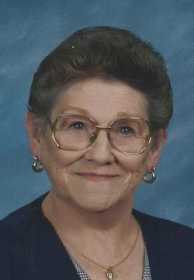 Mrs. Frances Merline Benson of Harrisburg died Wednesday, March 23, 2016, at St. Elizabeth Place in Jonesboro at the age of 77. She was born Aug. 24, 1938, in Tuckerman, Ark., and had lived most of her lifetime in Trumann. She was a homemaker and a member of Central Community Church. Mrs. Benson was preceded in death by her husband, Robert Cornelious "R.C" Benson; two daughters, Denise Qualls, and Janet Benson; grandson, Christopher Glenn Benson; one sister, two brothers and her parents, Bernard Newton and Lou Marie Mitts Hardin.
She is survived by one son, Robert G. Benson and wife Debra of Harrisburg, Ark; one sister, Betty Lou Chaffin of Stephenville, Texas; five grandchildren, Jake Aaron Qualls of Jonesboro, Zachary Heath Qualls of Trumann, Dylan Lee Qualls of Trumann, Brittney Nicole Correa of Harrisburg, and Meghan Lynn Benson of Trumann; six great-grandchildren, Jude Qualls, Harper Qualls, Ezra Qualls of Jonesboro, Christopher Williams of Trumann, Lynlee and Lincoln Correa of Harrisburg.
Funeral service was March 26 in the chapel of Thompson Funeral Home with Rev. Gary Brown officiating. Burial followed in Holly Springs Cemetery near Harrisburg.
Pallbearers were William Correa, Willie Correa, Dustin Correa, Bridger Benson, Buddy Cox, Billy Cox and Chris Benson.
An online register book can be signed at www.thompsonfuneralhome.net.