Mildred Brooks
Monday, April 4, 2016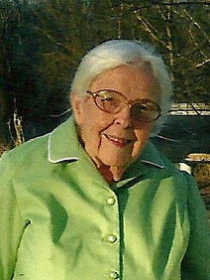 MARKED TREE -- Mildred L. Brooks, of Marked Tree, passed away March 17, 2016 at Three Rivers Nursing Home at the age of 92.
She was a lifelong member of Marked Tree Church of God and taught the kindergarten Sunday School class for 32 years. She leaved behind her extended church family. She was preceded in death by her parents, Harrison and Stella Brooks; two brothers Lawrence Brooks and Harvey Brooks; and one sister Eunice Coats.
Survivors include her sisters Billie Jean Sprouse of Smithland, Kent., Marry Jane (Doug) Massey of Byhalia, Miss.; one brother James (Jewel) Brooks of Olathe, Kansas; and many nieces, nephews and grand-neices and nephews.
Her home going celebration was held at Marked Tree Church of God March 19 with Rev. Patrick Tucker officiating. Pallbearers were Cliff Higgins, Johnny Rye, Jr., Anthony Smith, David Tacker, Dennis Tacker and Keith Tacker, all of whom were her former Sunday School pupils.
Interment was at Marked Tree Cemetery under the supervision of Roller Citizens Funeral Home from West Memphis.