Heavy rainfall causes flooding in Trumann
Friday, April 8, 2016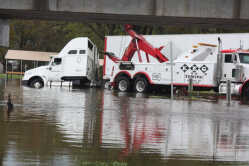 Heavy storms on March 31 flooded several streets in Trumann. Friday morning, Mayor Barbara Lewallen noted that the water was draining very slowly because the eight inches of rain had accumulated so quickly the day before.
She said Trumann city hall dealt with flooding issues all day last Thursday, and she drove throughout the city with Office of Emergency Management Coordinator Wayne Hogan to document the flooding. "There are 250 streets in town. I think 50 streets had significant water and 20 streets were practically impassable," Lewallen said. "Some of those streets were just lakes."
Lewallen said there were a couple houses on Park Street that got water in them from flooding, and the apartments on the end of Plaza Avenue had flooded, with Red Cross setting the residents up in hotel rooms. The intersection at Speedway and Ozark was closed after an 18-wheeler got stuck in a ditch at the underwater intersection.
"The detention pond is backed up onto Mulberry, but not a lot. And it would have been worse if we didn't have the detention pond," Lewallen said. She also noted that most of the flooding was on the east side of town. "We really need another detention pond on the east side. If there's any way we could find a way to do it, I see the need," she said.
Lewallen also added that city hall received several calls from people on flooded streets where the water did not reach into their homes until the wakes from cars driving too quickly down the roads caused the water to wash into the houses. She suggested when it floods like this to "only drive through if it's a necessity, and drive slowly to help people's property. We got lots of calls yesterday about this and couldn't do anything about it."
"I would like the citizens to know we're aware," Lewallen said. "We've been all over town and tried to help in any way we can. We've been inundated with water and are just limited in what we can do."
One good thing that came out of the flooding was in the Parks and Recreation Department. Parks Director Scott Shankle said that because the ballfields at the sports complex had been conditioned and then raked, they were the only playable fields in the area that day. Nine games were played that night, and Shankle said they used a golf cart to ferry 500 people into the sports complex. "We were basically playing on an island," Shankle said. He said they made more money at the gate than they did last year with pre- and post-season tournaments combined.
In the rest of the county, County Judge Bob Cantrell said some county roads had been washed out and a couple of culverts had been lost, but they have been running the graders and hauling gravel every day. "We're not in a disaster-type situation, but there's still a lot of work to do," Cantrell said Tuesday. "I'm watching the ditches and rivers. The water's receding real good."
Cantrell said the western side of the county still had a lot of water, but the eastern and central portions of the county were looking good.
In Harrisburg, Mayor Randy Mills said they didn't have any houses get flooded that he knew of. "We have one street, Griffin, that gets underwater when it rains a lot. There was a good deal of water on the south side of town. It all goes there. It comes up real fast but goes down real fast. There was no damage, as far as I know," Mills said.
In Marked Tree, Mayor Mary Ann Arnold said they didn't have any water getting in houses that she knew of but noted that the river was quite high.