Trumann homeless shelter holds grand opening
Friday, April 8, 2016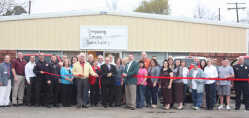 Stepping Stone Sanctuary in Trumann held its grand opening last week and is already looking at expansion.
Director Jeff Weaver said the homeless shelter has been doing great since their soft opening earlier in March and the opening of their food pantry in February. "We have two live-ins now," Weaver said during a ribbon cutting on March 31. "One is working on his GED, and the other is working as a night manager here and started a full-time job at Aaron's."
Weaver said the latest of several people they have helped included a family who moved into one of the emergency family rooms last week after their house burned. "It's not long-term, but it's long enough to help them get on their feet," Weaver said.
The idea for Stepping Stone Sanctuary came after a homeless woman was found in First United Methodist Church's community garden last year. The garden was another project spearheaded by Weaver, who is pastor of the church. Weaver said the woman was sleeping in the garden, and they had trouble finding a homeless shelter that could take her in. That sparked the idea to open a homeless shelter in Trumann.
Since starting Stepping Stone Sanctuary--which functions as both a homeless shelter and a food pantry, with future plans for a soup kitchen--Weaver said they have helped numerous people. "We're already outgrowing this facility way faster than we thought we would," Weaver said, adding that they were looking at expanding into the building next door.
The facility at 912 W. Speedway has rooms to house eight men, eight women, and two emergency family rooms. The rear of the facility holds the food pantry portion of the operation. "Last week, we gave out over 5,000 pounds of food," Weaver said. The soup kitchen opened this week and is open on Mondays currently. Eventually, the plan for the soup kitchen is to offer three meals a day to anyone who wants to come eat.