Bobby Rowlett
Friday, April 8, 2016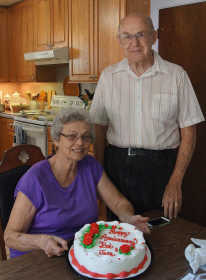 BEDFORD - Bobby Joe Rowlett born April 9, 1933, in Trumann, passed away April 1, 2016, in Bedford, Texas. Bob grew up in Trumann and graduated from Trumann High School in 1950. He went on to graduate at Arkansas State with a degree in Chemistry in 1954 and a degree in Chemical Engineering at the University of Mississippi in 1959. He served in the Korean War as a 2nd Lieutenant in the Army from 1954 to 1956.
Bob met the love of his life, Hannah Jane Parks in Weona, Ark., and they were married in the Methodist Church there in 1952. Last summer they celebrated their 63rd anniversary.
After college, Bob took a job with Columbia Carbon in Franklin, La., where they lived until 1963 and then moved to Odessa, Texas, where he worked as a Quality Control Engineer. In Odessa, Bob was active in St. Paul Presbyterian Church. He was also an Ordained Deacon, taught Sunday School, and a Boy Scout Leader.
The Columbia Carbon plant in Odessa closed in 1972, and the family relocated to Bedford, Texas, where Bob worked for Sid Richardson in Ft. Worth. Bob and Jane relocated to Salt Lake City, Utah, in 1987. There he worked for Morton Thiakol as a Safety Engineer after the tragic crash of the space shuttle Challenger. He retired in 1992 and they returned to Bedford in 1995.
After retirement in Bedford, he kept busy with a large garden. He was an avid reader and loved to work on Geneology tracing his ancestors.
Bob and Jane had 3 children: Mike in 1953, Teresa in 1958 and Rodney in 1961.
Bob is survived by his wife Hannah Jane; son Mike and wife Beverly of Flower Mound, Texas; daughter Teresa and husband Steve of Oregon City, Ore.; and son Rodney of Ft. Worth; grandsons: Justin, Tracy, Meredith, Casey and Corey; four great grandchildren: Molly, Wesley, Grant and Cruz. Surviving siblings are Ann, Tom, Eddie and Wendell, all in Arkansas. He was preceded in death by siblings Doris, Jack, Jerry and Betty Sue, and his parents Ernest and Ida Rowlett of Trumann.
Funeral Services are set for 2 p.m. on Saturday April 9, 2016, at Jackson Funeral Home Chapel in Harrisburg with visitation from 1-2 p.m. There will also be visitation Friday, April 8, at the funeral home from 6-8 p.m.
Pallbearers are Justin Weiner, Edward Rowlett, Tracy Hamilton, Steve Griffis, Kevin Trevathan, and Tom Rowlett. Honorary Pallbearers are Rodney Rowlett, Mike Rowlett, Casey Griffis, Corey Griffis, Meridith Hamilton, and Ernest Rowlett.
Memorials can be sent to Bedford Texas Library: Bedford Texas Senior Center: Emmanual Presbyterian Church in Bedford, Texas.