Citizens ask for answers on Carver Gym
Friday, April 15, 2016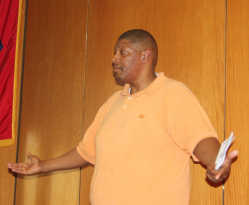 It's been a year since Carver Gym was closed following the Marked Tree City Council's meeting there last April. At last month's meeting, the council voted 5-2 to offer the gym up for donation to an interested individual or group by June, or the gym will be torn down. During Monday's often heated meeting, two lifelong Marked Tree citizens spoke to the council looking for answers.
Terry Carter, who has worked in the Marked Tree School system for 23 years, said he was on the agenda on behalf of the kids to get some answers, adding that they also want to come before the council to voice their opinion. "I do not feel you all have given me a legitimate reason why you all do not want to renovate the gym," Carter said. "I'm a tax payer. We just got some new cop cars. And that's great. I love the cops. But if my tax dollars are good enough for a cop car, or a roof, or to fix anything else in this community, why are they not good enough for Carver Park?" Carter asked that those who had voted against renovation explain why.
Alderman Danny Johnson noted that last month's vote to donate the gym stipulates that the city will possibly contribute to putting a new roof on it after it's donated. He also mentioned Crawfordsville having a nice gym and said Carver Gym "will never be nice as long as the city has it. It would be better if someone else has it."
Alderman Gail Nichols said, "I wouldn't fix it if it was right out here on Main Street because it is in such bad shape, and the city doesn't have the money."
Mayor Mary Ann Arnold told Carter that the city would have more rules and regulations to abide by if it renovated the gym as opposed to an individual or organization, which could do it for cheaper.
Carter directly asked alderman Steve Craig, who drafted the motion to donate the gym, "Why are you so against the gym?"
"If you'd been here every meeting, you'd know why," Craig said, before refusing to say any more.
Alderman Soozi Williams told Carter, "I'm not against renovating the gym. The city can't afford it. We have voted. We're not going to renovate. We're going to give it to someone."
Larry Rollins was also on the agenda to talk about city business but wanted to talk about Carver Gym first. "The city is obligated to take care of the gym," Rollins said. "All of us know who is responsible for that gym."
Alderman Jerry Jones also spoke, asking the council to reconsider last month's vote and fix the roof so money could be raised to fix the rest of the gym. "The city doesn't have to pay $200,000 or $100,000 to fix the top and the ceiling. We can raise the money," Jones said.
Mayor Arnold responded to Jones, saying, "How many times have I spoken to you? How many times have I said go out and get your contributions? I haven't seen one thin dime, and I have yet to have someone ask me for a donation."
Jones said the city should make the first contribution by fixing the roof. When Williams suggested Jones take the gym, Jones said, "The city has to fix it first. I have asked for donations, and the people I asked are willing to give, but what really motivates people is seeing someone else do something. Have the the city put on the roof, and then you'll see what Marked Tree can do." Jones pointed out that the city still has the $35,000 the council set aside for the gym plus the insurance money.
Discussion continued until council members called for the meeting to be adjourned.
In other business before the Carver Gym discussion, the council:
*rescinded a resolution establishing the policy for the collection of bonds and fines for district court and passed the policy as an ordinance. The city had first been told by the legislative audit to pass the policy as a resolution before being told it actually needed to be an ordinance.
*passed an ordinance rezoning property at 132 Dustin King Road to allow for conditional use of a trailer.
*heard from Larry Rollins regarding the city patching a hole in Ritter Communications' parking lot. Director of Public Works Wayne Hendrix said he fixed it because he had caused it. When confronted further by Rollins, Hendrix said he does a lot to help everybody in town and would continue to.