City officials talk economic development at intergovernmental meeting
Friday, April 15, 2016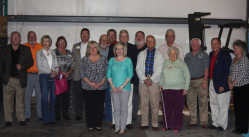 City and county officials gathered in Waldenburg Tuesday for their quarterly intergovernmental council meeting to give city updates and talk economic development. Two major economic development topics were brought before the group by Trumann Chamber of Commerce Director Neal Vickers, who led the meeting in County Judge Bob Cantrell's absence.
The first item was Senate Joint Resolution 16, which is an amendment that will be on the ballot this fall concerning job creation, job expansion, and economic development. Vickers explained that Arkansas is at a competitive disadvantage compared to surrounding states when it comes to being able to offer companies incentives to locate here. The amendment would remove the cap on bonds that can be used to compete for large projects. It would also provide clear definitions for cities to participate in economic development, allow cities and counties to share costs to pursue projects, and give cities and counties the authority to spend local money or issue bonds on economic development projects.
Representatives Dwight Tosh and David Wallace both agreed the amendment would free up cities to offer incentives they are not allowed to currently. "We can't compete with Texas and Tennessee. They have incentives," Tosh said.
"If you're going to be in a footrace, you don't want to be the fellow carrying a sandbag," Wallace said. "This is giving voters the option to throw the sandbag away. It is not a tax increase. We believe government decisions are best made at the local level. You know what to do at the local level better than we do in Little Rock."
Vickers said the amendment gives local governments the ability to spend money in different ways so incentives could be used to better attract businesses. He urged all cities to pass resolutions supporting the amendment. Tosh added that there will be two more amendments on the ballot. One allows the governor to retain his powers when he is out of state. The other changes the terms for county officials from two years to four years. This amendment will not increase terms for state representatives or justices of the peace.
The second economic development item Vickers presented was the idea of ending Poinsett County's membership in the Crossroads Coalition and joining the Northeast Arkansas Economic Development Coalition. The reason Vickers gave for suggesting the switch was that Craighead County is included in the NEA Coalition, and Poinsett County economic development is more linked with Jonesboro than any city in the Crossroads Coalition, where Poinsett is the northernmost member. Vickers noted that numerous Poinsett residents commute to Jonesboro. "The largest driver of economic development in Northeast Arkansas, and the biggest influence for us, is Jonesboro," Vickers said. "I think we would be better served if we went to the Northeast Arkansas group and asked them to include us."
When the Crossroads Coalition was originally formed, there was no NEA Coaltion. The mayors present, who represented every city in the county except Fisher, all agreed that joining the NEA Coalition made the most sense now. "Jonesboro's the one we're going to have to partner with," said Harrisburg Mayor Randy Mills. Vickers suggested the mayors talk it over with their city councils and then talk to the county judge. He indicated that NEA Coalition was willing to take them in, but the county has to go in as a whole.