Hornets fall to Corning in non-conference contest
Monday, April 18, 2016
Harrisburg managed only one run on three hits in their 10-1 loss to Corning this past Friday in a non-conference contest in Harrisburg.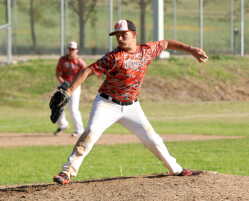 The Bobcats took the early lead with a run in the top of the first inning making it 1-0. Brady Castle led off the inning for Harrisburg with a ground out as Jordan Hindman walked. Hindman stole second base before being caught in a rundown on Noah Benintende's fielder's choice grounder for the second out. Dylan Mathis flew out to end the inning with the score still 1-0 Bobcats. Corning added another run in the top of the second inning to make the score 2-0. Zach Biggers popped out for the first out in the bottom of the inning for Harrisburg as Jaxson Hawkins followed with a double. Chris Wiggington flew out as Hawkins tagged and advanced to third base. Lance McGinnis reached on an error that scored Hawkins making it 2-1 Bobcats. McGinnis was caught stealing to end the inning for the Hornets.
Full game coverage in April 14 edition of PCDT!