Lady Yellowjackets lose conference game to Armorel
Monday, April 18, 2016
Bay let a 3-1 lead slip way as Armorel came back and took a 5-3 win in 1A-3 East softball action this past Tuesday in Bay.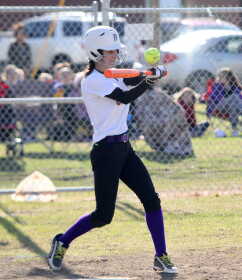 Armorel went down in order in the top of the first inning. Baylee Bowers grounded out to lead things off for Bay as Katie Ferguson struck out. Mallory Hartley reached on infield single before stealing second base. AnnMarie Wood grounded out to end the inning with the score 0-0. The Lady Tigers got on the board in the top of the second inning scoring on a passed ball to take a 1-0 lead. The Lady Yellowjackets went down down in order in the bottom of the second as Emily Rush, Jessie Martin and Kaitlyn Dixon all struck out to keep the score 1-0 Armorel.
Pick up a copy of the April 14 PCDT for full game details!