Warriors take road win at Harrisburg
Friday, April 22, 2016
EPC took an early 1-0 lead as Harrisburg kept the game close for the first two innings. EPC used six hits in the top of the third to go up 6-0 on their way to a 13-2 win over the Hornets this past Friday in Harrisburg.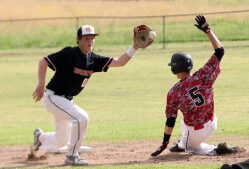 Kyler Gordon and Trevor Walker both grounded out for EPC in the top of the first before Clay Malone singled and stole second base, Peyton Phillips singled scoring Malone to make it 1-0 Warriors. Chanc Gray hit in a fielder's choice that forced Phillips out at second base for out three. Brady Castle walked to open the bottom half for Harrisburg as Jordan Hindman followed with a fly out. Noah Benintende singled with Dylan Mathis following with a fielder's choice forcing Benintende at second and moving Castle to third. Zach Biggers flew out to end the inning with it 1-0 EPC.
Full game story in April 21 edition of PCDT!