Parker signs to play volleyball at Hendrix College
Friday, April 22, 2016
All the hard work Caroline Parker of Harrisburg has put in over the past several years paid off this past Friday as Parker signed scholarship papers to play volleyball for the Lady Warriors. Parker was all smiles afterwards. "It's an amazing feeling. It just shows that all the hard work does pay off in the end. If anyone has the desire to play college ball I say go for it, it's possible," Parker said.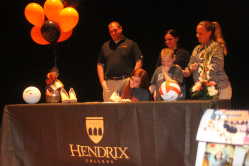 An all-state selection this past season a three-time all-conference selection, Parker finished her senior year with 553 assists, 315 digs, 79 kills, 57 aces along with 24 blocks. Her career stats as a Lady Hornet are 2,117 assists, 963 digs, 191 aces with 172 kills.
Parker finished out her high school career being selected to play in the Queens of the Hardwood game. Harrisburg coach Chastan Carpino got to coach her one more time. "She's a special player. She's a leader on the court and will be hard to replace. Hendrix is getting a great player but is also getting an excellent student and a great person," Carpino said.
Parker grew up around Parker Homestead and when she visited Hendrix, she said it just felt right. "Growing up around old things like I have, Hendrix had that old, rustic feeling. I loved it," Parker said.
"I'm going to miss my teammates here at Harrisburg. They are my sisters and I love them. I will so miss getting to play with them," Parker added.
"I'm ready for the next level. I'm ready to get there and have that first practice. It seems like I've played volleyball my whole life, I couldn't imagine not playing the game," Parker said.
Hendrix has won back to back regular season and conference championships in the Southern Athletic Association. The Lady Warriors advanced to the semi-finals of the NCAA Division III Championship finishing their season with a 29-9 record.