Controversial call allows Wildcats to get win over EPC
Friday, April 22, 2016
The home plate umpire overturned a call by the field ump at first base that would have given EPC the victory but instead allowed the tying run to score before Trumann got a single from Jarred Carter to score Koltan Jones with the winning run as Trumann nipped EPC 12-11 in high school baseball action t his past Monday in Trumann.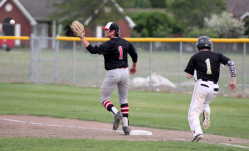 EPC got a one out single from Trevor Walker who then stole second base to get in scoring position only to see Clay Malone look at strike three and Peyton Phillips pop out. The Wildcats took advantage of six walks, a hits batsman, an error, two wild pitches and three passed balls to score five runs without a hit in the inning to take a 5-0 lead after one. Hayden Malone, playing his first game since knee surgery last year, singled with one out in the second inning for the Warriors and was replaced by Hayden Tucker when he came up limping at first base. Tucker stole second base before being thrown out trying to score on Hayden Allen's single, Austin Smith popped out for the third out. Lucas Moye walked to start the bottom of the second inning for Trumann before Kyler Gordon came on in relief of starter Chanc Gray. Dylan Qualls reached on a fielder's choice that forced Moye at second. Qualls scored on a double from Terran Blanchard to make ti 6-0 Trumann. John Dunman singled to score Blanchard as Alex Santos struck out to end the inning with the Wildcats up 7-0 after two.
Pick up a copy of the April 21 edition of the PCDT for full game story!