Claude Day
Friday, April 22, 2016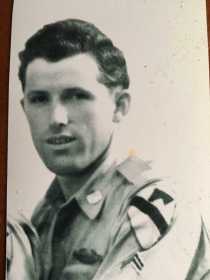 MARKED TREE - Claude Leander Day, 89, of Marked Tree, passed away Monday, April 18, 2016, at NEA Baptist Hospital. He was born in Eads, Tenn., to the late Ocie Day and Allie Maude Morgan Day Robison. Claude was a mechanic and of the Baptist faith. Claude served in the U.S. Army where he was stationed stateside during WWII and served two tours of duty in the Korean Conflict. He loved fishing, hunting, country and bluegrass music, traveling, driving and looking at the scenery; and most of all, being with his family.
Claude is preceded in death by his parents; a daughter, Janet Day Carroll and five siblings.
Survivors include his wife, Norma "Jo" (Scull) Day; daughter, Brenda (Phillip) Tucker; son, Brandon (Cody Russell) Day, whom Claude and Jo adopted as a son at age 10; grandchildren, Markus (Haley) Carroll Jr., Kim (Chad) Pierce, Jessica Hannah and Tara Hannah; great grandchildren, Charli Simpson, Marissa and Aubri Carroll, and Eli and Levi Bouler; a brother, Jim Bob (Linda) Robison; a sister, Iva Jean (Wayne) Brumley; and a very special niece, Yvonne Lafarlett.
Chapel services will be 1 p.m. Friday, April 22, at Roller-Farmers Union Funeral Home, 1900 West Washington Avenue in Jonesboro with Rick Kimery officiating. Interment will follow at Marked Tree Cemetery.
Visitation will be 5:30-7:30 pm Thursday, April 21, at the funeral home.
Gordon Lafarlett, Wayne Brumley, Charles Ellis Scull and Chad Pierce will serve as honorary pallbearers.
Popaw believed in feeding the hungry. He donated to the NEA Food Bank regularly. Please consider lasting memorials in Claude's honor to 3414 One Pl, Jonesboro, AR 72404.
Online guestbook: www.rollerfuneralhomes.com/Jonesboro.