McWayne talks about Parent Center
Friday, April 22, 2016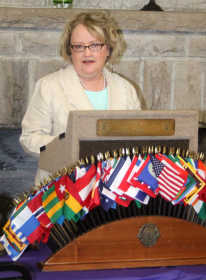 Patti McWayne, Parent Coordinator at the Parent Center in Trumann, was the guest speaker at the Trumann Lions Club's weekly meeting last Wednesday.
McWayne is in her fourth year at the position but has been in the Trumann School District for 28 years. "I'm honored to be here today and to speak to you. We are very fortunate to have a parent center here at Trumann," McWayne said.
Telling the group that she looked up the meaning of coordinator, she feels it's exactly what she does. "It says, 'To make sure things go smoothly, coordinates with other people or activities.' That is what I do. I want things to go smoothly for the school, and I so enjoy the activities we get to do. A big thanks to our administration for letting us do those things," McWayne said.
McWayne told the group that as education changes, she helps bridge the gap some students have by helping the teachers as much as she can. "They don't have the time I do to sit down on a daily basis with the kids, so I encourage them to send the kids to me so I can help them," McWayne said. "I want to help bring the school and parents together to work with the child. This helps them academically and socially." McWayne works closely with social worker Amy Ball in helping the kids. "She has access to a lot more services than I do," McWayne added.
Activities such as Boo Hoo Yahoo breakfast for kindergarten parents, Walk to School Day, Grandparents Lunch Day, Math Night, and Night Before Christmas are just some that are held at Cedar Park. At Trumann Intermediate School, they have a Tech Night where students bring their computers along with parents to ask any questions about the computers, Art Night, and Math Night. Trumann High School has an Art Night, Math Night, Science Night, and Literacy Night. "Most think we do more at Cedar Park, but it's just that the younger kids are more eager to attend the activities," McWayne said.
McWayne told the group that one area the center wants to work on for the future is a Grandparent Support Group for those grandparents who are raising their grandchildren.
"Education is important to the kids, and we want the parents to be involved with help them with that education," McWayne said.