Mock prom wreck staged at EPC
Friday, April 22, 2016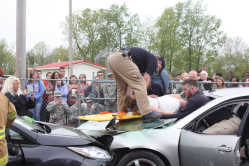 Riverside Ambulance organized this year's mock prom wreck at EPC High School to teach students of the dangers of drunk driving. Many of those involved in staging the wreck said if they were able to reach just one person, it was worth it.
Students from EPC and Marked Tree came to see the performance, which involved rescue crews responding to the scene of wreck between high school students and a family of three. The people in the wreck were portrayed by Cordell Laden and Saneita Rea (who played the family complete with a baby doll standing in for a baby killed in the crash), and Kelley Smith, Hunter Turner, and Cameron Willoughey (who played the students). The agencies involved in the mock wreck included the Lepanto Police, Marked Tree Police, Tyronza Police, Poinsett County Sheriff's Office, Hospital Wing, Riverside Ambulance, Lepanto Fire Department, Arkansas State Police, and Murphy Funeral Home.
Earnie Hill with Riverside Ambulance spoke briefly to the students before introducing Chief Deputy Kevin Molder and State Trooper Dwight Griffith. "I lost a best friend in 2002 to drinking and driving," Hill said. "It just don't pay to drink and drive."
Throughout the mock wreck, Rea's character was screaming for her baby. Molder pointed out this aspect of the performance when he spoke to the students. "When I heard the lady screaming, I got chills. The reason is because I've seen this before," Molder said. "Look around at all these first responders, they can tell you: it can happen to you."
"Accidents like this are preventable," Griffith said. "It all comes down to choices, like texting and driving." Griffith mentioned a wreck in Woodruff County a few weeks ago where a 19-year-old girl's car flipped and landed upside-down in a water-filled ditch where she drowned. "All it takes is one glance," Griffith said.
David Simmons, Lepanto Fire Chief and Director of Riverside Ambulance, closed the mock wreck, saying, "I hope we got a point across. We want you to have a great time and enjoy yourself, but we don't want this to happen."