Trumann Animal Clinic celebrates 32 years
Thursday, April 28, 2016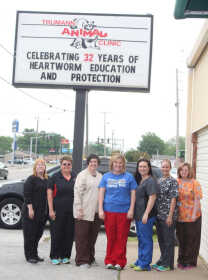 Trumann Animal Clinic is celebrating their 32 year anniversary this month. Dr. Norette Underwood originally opened the clinic on April 1, 1984.
The Harrisburg native knew she wanted to be a veterinarian when she was in the tenth grade because of her love of animals and science. "I was one of the lucky ones. I knew what I wanted to do in school," Underwood said.
She had been working in New Orleans when she decided to open up an veterinary clinic in Trumann. Over the years, Trumann Animal Clinic has grown to fill the building it's in and has gone from having one employee to two doctors and dozen employees.
"The nice thing is I've watched families grow up," Underwood said, saying she's seen the children of families she's worked with grow up and now takes care of their pets too.
Underwood said the pets she takes care of are a big part of what makes the job so enjoyable, and so are the people. "The people of Trumann have been so good to me," she said.
Veterinary care has changed a lot in the past 32 years. Underwood said the technology has advanced just like with human medicine, and there is a much larger variety of medications available now. There is more specialization now, and the demand for care is great. "People demand the same care or better than they get from human doctors," Underwood said.
People are also more informed when they come in now, thanks to the internet. "It's like anything. Just like when someone buys a car now, they've researched it. They want to know why and ask questions," Underwood said.
Most of the changes at Trumann Animal Clinic over the years have been gradual. One big recent addition has been the mobile vet service, which began last year. With it, Dr. Underwood and her staff have been able to make house calls to people of all ages and economic levels. "It's a very valuable service," Underwood said. "For some it's a convenience. For some it's a necessity."
"We try to provide the best medicine and try to do it economically. I try not to provide anything they don't need," Underwood said.
Trumann Animal Clinic is having an open house Friday as part of their anniversary and has been promoting heartworm awareness all month.