Trumann job fair grows in second year
Thursday, April 28, 2016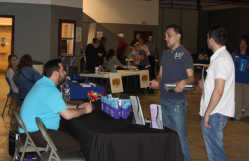 The second annual job fair in Trumann, sponsored by Gooodwill Industries in partnership with the Trumann Chamber of Commerce, was a success and showed a lot of growth in participation over last year's job fair.
Chamber Director Neal Vickers said more people came to this year's fair in the first half hour than came during the entire four-hour event last year. Last year, 38 job seekers attended. This year, Thirty-four organizations were present at the fair recruiting, and 84 job seekers showed up, including 65 from Poinsett County, 18 from Craighead County, and one from Mississippi County.
"Not only were there more organizations and job candidates, but we worked the fair better this year," Vickers said. Vickers said the chamber did not collaborate with Goodwill last year, and this collaboration, along with Goodwill Career Specialist Jennifer Francomano having a full year to plan this time, helped make the job fair better. Vickers said Francomano deserved a lot of credit for the fair's success.
According to Vickers, a much-used asset at the job fair was the Arkansas Department of Workforce Services mobile workforce center, a bus which contained 12 computers, internet access, and an interview room. "Job seekers could walk out of the job fair and--while it was fresh on their minds--complete an application immediately," Vickers said. He said the bus was full during the entire job fair with people filling out applications.
One thing Vickers said he was pleased about was that those applicants who didn't have GEDs learned that there is a GED completion program at the Adult Education Center in town. "If that was a barrier, it would no longer be a barrier for them," Vickers said.
Francomano credited the success of the job fair with Goodwill's partnership with the Trumann Chamber along with other community chambers and their success in the Jonesboro area. "It went great," she said.
Francomano said she has also used the Sims-Talbot Adult Education Center in Trumann to host job readiness classes for people convicted of felony crimes. She said the program is open to the public, but helping people convicted of felonies get back into the workforce is the main focus. "It's been extremely successful," Francomano said, noting that she's aware of only one or two people who completed the program who have not yet found jobs.
Francomano also pointed out that all workforce services Goodwill provides are free of charge and funded through the thrift shop, with 90 cents of every dollar going toward the workforce program.