Wildcats beat Bay 12-1 in season finale
Wednesday, May 4, 2016
Jarred Carter and Dylan Qualls both homered as Trumann posted a 12-1 win over Bay in the Wildcats' season finale this past Tuesday in Bay. The Wildcats was eliminated from a chance at post-season play with a double-header loss to Westside this past Monday.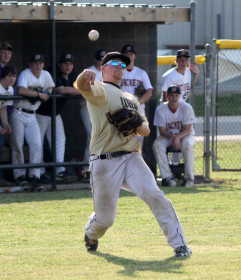 Cade Gartman struck out to start the game for Trumann as Garrett Woods followed with a double. Moye walked before Woods was thrown out trying to steal third. Dylan Qualls singled with Jarred Carter following with a three-run home run to put Trumann up 3-0. Kevonte Andrews reached on an error only to be left stranded when Blake Qualls grounded out. Nolan Smith was hit by a pitch and was forced out at second on a fielder's choice by Jimmy DuVall. Layne Austin popped out and Jonathan Crain's fielder's choice forced DuVall at second to end the inning with the score still 3-0 Trumann.
Alex Santos grounded out and Connor Haag flew out for Trumann's first two outs in the top of the second. Gartman doubled before going to third on a passed ball and scoring on a passed ball to make it 4-0 Wildcats. Woods walked and went to second on a wild pick off throw. Woods took third on a passed ball and was left there as Moye struck out for out three. Ryan Austin reached on an infield single for Bay and went to second on an error. Ashton Darby grounded out moving Ryan Austin to third as Kyle McAdams walked. Jordan Jackson's ground out scored Ryan Austin as McAdams was thrown out trying to reach third base leaving the score 4-1 Trumann.
Pick up a copy of the April 28 PCDT for full game story!