Griffin to continue career at Williams Baptist College
Friday, May 6, 2016
D'Angelo Griffin of Marked Tree made a dream come true last Wednesday when he signed his scholarship offer to play basketball at Williams Baptist College (WBC) in front of family, friends and coaches at Marked Tree High School.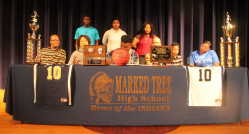 Griffin was a multi-sport star at Marked Tree as he played football, basketball and ran track for the Indians. Griffin rushed for over 1,100 yards and 17 touchdowns this past football in helping his team reach the Class 2A state playoffs. He helped guide the the basketball team to a 24-9 record while making it to the semi-finals of the state tournament. Griffin averaged over 23 points, six rebounds and four steals a game as he scored in double digits in 23 of their games. In track, Griffin won high points honors at the 2A-3 district meet as he won the 100 and 200 meter dashes while winning high-point honors in leading his team to a runner-up finish.
Griffin is looking forward to just playing basketball next fall. "Being able to focus on just one sport will probably make me develop a little better," Griffin said. Having already been to the college a couple times, Griffin said he feels comfortable there. "I interacted well with the players on the team and I think it's going to be a good experience for me over the next four years," Griffin added.
High school coach Barbara Wilburn praised her star player. "He came up to me when he was in the eighth grade and told me he was gonna play for me. Living in Trumann at the time, I told him I'm sure they will have a say in the matter. He just smiled and said again he was going to play for me at Marked Tree," Wilburn said. "WBC just got a gem. He not puts in hard word on the gym floor, but he works just as hard in the classroom too," Wilburn said. "He will do what he needs to do to succeed so they (Williams) will never have to worry about him," Wilburn added.
WBC coach Josh Austin knew Griffin was special after seeing him play this past season. "I saw him play the last two games against EPC. I not only watch on court, but I watch as he's coming off the court, while he's on the bench and what he did in tough situations. I found out pretty quick he was someone we had to have," Austin said. "He's going to excel at anything he sets his mind too," Austin added. "When he came in to workout for us, I saw the same intensity and attitude I saw during his games, it never changed. That fits the mold we are looking for," Austin said.