EPC duo ink scholarships to Crowley's Ridge College
Friday, May 6, 2016
Montrell James and Keyon Dorsey will continue as teammates at Crowley's Ridge College (CRC) as they signed scholarship papers to play basketball for the Pioneers this past Friday at EPC High School.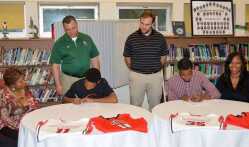 James played his entire high school career at EPC and helped guide the Warriors to finals of the Class 2A state tournament this year. At only 5'9", James is a smooth ball handler and surprises opponents with his jumping ability. James can shoot the ball well and isn't afraid to take it to goal against larger players. "He's done everything I've asked of him. He was one of the first players I met when I came to EPC," Pierce said. "He's become a leader and he's coachable. He will be an asset to the CRC program," Pierce added.
James said his visit was great to the college. "It felt natural while I was there," James said. "I like coach (Chris) Perkins and the way he runs his team," James added.
Dorsey only played his senior year after moving to Lepanto from West Memphis. The 6'5" post player gave the team the inside presence it was looking for. "What a gift we got when Keyon moved in. He is a great kid who yes and no sirs and never questions what he's asked to do," Pierce said. "He's got one of the best worth ethics I've ever seen," Pierce added.
"I liked the feeling I got when I visited CRC," Dorsey said. "It's close enough to home that my family can come watch and I can still get home for visits," Dorsey added. "This is all I ever wanted to do. I'm just so happy and I feel good right now," Dorsey said.
CRC is located in Paragould and competes in the National Christian College Athletic Association (NCCAA) in basketball. The Pioneers are in Division I of the Central Region.
CRC finished with a 23-9 record this past season with their first trip to the NCCAA National Tournament. The win total set the school record for most wins in a season.