Lady Yellowjackets shutout in district finals
Friday, May 6, 2016
Bay's offense managed only two hits in the 1A-3 East district championship game against Armorel as the Lady 'Jackets fell 9-0 to the Lady Tigers this past Tuesday in Bay.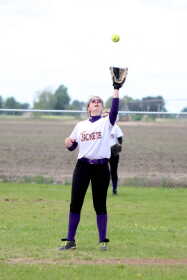 Bay went down in order in the top of the first inning as Baylee Bowers and Katie Ferguson went down swinging as Mallory Hartley looked at strike three. Armorel plated one run in the bottom half of the inning to take a 1-0 lead. The Lady Yellowjackets were retired again in order in the top of the second with AnnMarie Wood and Emily Rush both striking out before Jessie Martin flew out to right field. The Lady Tigers added two more runs in the bottom of second making the score 3-0 after two innings of play.
Full article in May 5 edition of the PCDT!!