Miracle League Park: for the love of the game
Thursday, May 19, 2016
I recently had the honor of going to a game at the Miracle League Park in Jonesboro. My buddy Calvin Hensley of Marked Tree had been wanting me to come out and watch him play and to take some pictures of him in action. What I witnessed at the game was what I wish every person who played sports and the parents of those players had a chance to witness, a true love for the game.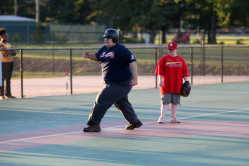 On this night the 5G's Aviation Cardinals were set to square off against the Focus, Inc. Braves. The atmosphere was electric and the eagerness to play could been seen on the faces and heard in the the voices of the players. Smiles were abundant and wishes for each other to have good games could be heard.
The Braves batted first and they sent balls flying everywhere on the field. After all had batted, the Braves were up 11-0. Now it was the Cardinals turn to bat and they returned the favor with hit after hit and the players circling the bases as they posted 11 runs to tie the game. Some of the players batted batted pitched balls, some hit off a tee and some had to mechanical help to hit the ball. On the base paths some ran by themselves, some zoomed around in their wheelchairs while others had their "buddy" run with them.
The second inning saw more of the same as the balls were jumping everywhere and the players circled the bases and when it was all said and done, the game ended in a 22-22 tie.
A tie? Most teams would have been upset about this outcome and demanded the game go on. Not these players. There were still smiles on all their faces with high fives and hugs all around. They had played hard and were tired, but that didn't stop the enthusiasm of the players.
One thing I noticed during the game that put a smile on my face and made my heart feel good. There wasn't a single argument from any player nor were there any shouts of negativity from the parents in the stands. The players cheered each other on as well as the players on the other teams. They gave the opposing players high fives if they got a good hit while running the bases and encouraged their teammates if they missed a ball. It was such a fun game to watch.
After the game, each team lined up down the baselines and they joined in singing Take Me Out To The Ballgame. As they said their good-byes there was still no arguing or no bad mouthing the the other players. Nobody was upset that the game ended without a winner or a loser. None of that mattered, these players had the time of their lives as they played solely for the love of the game.