Lions hear about chronic wasting disease
Friday, May 20, 2016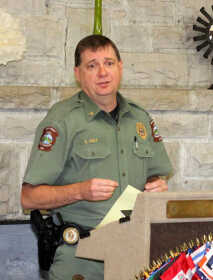 Chris Holt, an officer with the Arkansas Fame and Fish Commission (AGFC), spoke to the Trumann Lions club recently about chronic wasting disease.
Holt started working as a jailer for Poinsett County in 1997 before becoming a deputy. He worked his way to the rank of lieutenant and was the night supervisor. In 2011, Holt switched jobs and became a warden for the AGFC. Holt is a Poinsett County native.
Chronic wasting disease (CWD) was the main topic Holt discussed with the group. CWD is a prion that is found in the cervid family, mainly deer and elk. "It's not a virus or a bacteria, and there is no known way to get rid of it, and there is no cure for it," Holt said. Holt said some of the signs a deer will show with CWD are wandering about in circles in the same area, head held low, and salivating. "CWD is a terrible thing. Once a deer or elk contracts it, it's 100 percent fatal," Holt said. Holt also said there have been no cases of a human contracting CWD.
Though not cases have been reported in the county, there have been 82 confirmed cases in deer and four cases in elk. There were 684 animals tested. "The first case reported was found in a cow elk that had been harvested," Holt said. Most of the cases reported have been from the Buffalo River Valley area that includes Newton, Boone, Pope, and Madison counties. "Even though those test numbers are true numbers, most of those cases were found in Buffalo River Valley area," Holt said. "We are not going to lose our deer and elk populations."
Holt said some states have tried to eradicate as many deer as possible to try and deter the disease, having no result. "I'm sure there will be some regulations come out in the near future. The use of feeders has been discussed along with the use of doe urine as an attractant," Hold said. The disease is spread through saliva and the bone carcasses. If the urine is harvested from a deer that is infected with CWD, using the urine can possibly spread the disease. The use of feeders keeps the deer in the area where there have been reported cases. "Feeding a deer is not a natural way of life for the deer," Holt said. "We don't want this disease in our area. We don't want it to be any more prevalent than it already is."
Holt brought along several sets of deer antlers from deer that had been killed illegally. Most of the deer were killed during the times of flooding in the area. "These deer don't have anywhere to go, and they cross the levees into wide open fields, exposing themselves as easy targets. They also become almost tame," Holt said. "Deer like these are not killed every day in this area." Holt said social media plays a part in helping catch violators as they will post pictures of the deer for everyone to see. Holt said with just two wardens in this area, it's been hard to be everywhere. "We used a fixed wing aircraft with night vision one night, and it seemed that was the night everyone wanted to go out and hunt illegally. We issued 15 citations that night," Holt said. Holt told that group that killing a deer like these out of season is a 30 point violation and could result in a fine up to $1,500.