Marked Tree School District receives award for academic growth
Friday, May 20, 2016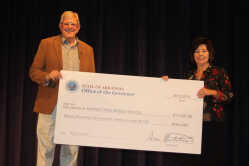 Marked Tree School District received over $11,000 this week from the state in recognition of their academic growth during the 2014-2015 school year as part of the Arkansas School Recognition Program.
According to the State Board of Education's website, Marked Tree Middle School was in the top five percent of schools with student academic growth.
State Representative Dwight Tosh was present at a ceremony Tuesday at Marked Tree High School to present the award of $11,226.36.
"This program was set up through a Legislative Act to reward schools who excelled in achievement or growth," Tosh said. "It's a way to say: for your hard work, the state of Arkansas is going to recognize you, and we're not just going to give you a plaque or a pat on the back. We're giving a monetary award to use in the school to promote excellence."
Marked Tree is one of 194 schools awarded in the state, and one of three--along with Swifton and Valley View--to receive such awards in District 52. "This is a rural district. Sometimes, if we're not careful, these schools are forgotten. In this case, what $11,000 means to this school, I'm not sure you can measure that," Tosh said.
Marked Tree High School Principal Matt Wright praised the students, who were in attendance at the award presentation. "As a student body, you are in the top five percent in terms of student (academic) growth," Wright said. "You took an already high bar and raised it. You were already high performing, and you raised that bar. There's no place I'd rather be than here and no kids I'd rather have than you."
The Arkansas School Recognition and Reward Program provides financial awards to public schools that achieve high student performance, high student academic growth, or both. The program recognizes and awards the top ten percent of schools in the state. Reward amounts are determined by the number of students enrolled. Schools receiving recognition funds establish a committee to determine the best use of the funds. Award funds may be used for faculty and staff bonuses, educational equipment and materials, or personnel to assist with improving or maintaining student performance and growth. Arkansas Learns--a private sector alliance of parents, employers, and citizens dedicated to excellent education options for all students--championed the Reward School funding in the 89th and 90th General Assemblies.