Kim Smith named Marked Tree Teacher of the Year
Friday, May 20, 2016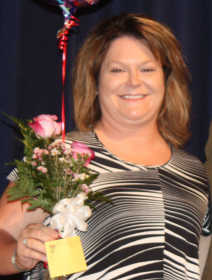 Kim Smith was named Marked Tree School District's 2016 teacher of the year this week.
A Marked Tree graduate, Smith has been a teacher in the district for a total of 13 years. She currently teaches seventh and eighth grade Math for half of the day and serves as Elementary Math Coach for the other half. She also mentors other teachers as an instructional facilitator.
Smith was recognized during a ceremony Tuesday with students and community members in attendance.
"She is a lead teacher in every sense of the word," said High School Principal Matt Wright. "Most importantly, she has always moved the kids forward. Day in and day out, she has excelled. And because she has, you (the students) have."
Smith had no idea she would be winning the award. "I was definitely surprised and shocked," she said. "It means the world for me to be recognized for the hard work we as teachers put into the school. And the way it was presented--that the students were a part of it, that they were there--meant a lot."
The desire to teach began for Smith with the impact one of her teachers had on her. Ms. Carrie Skipper was Smith's fourth grade teacher. Smith said Ms. Skipper had a huge impact on her life when she was going through a tough time. "From there, it's something I've always wanted to do," Smith said. "I wanted to make an impact and make a difference in a kid's life."
Smith said one of the things she likes about teaching in Marked Tree is that it's home. As a teacher who grew up in Marked Tree, Smith went to school with many of her students' parents, which brings her closer to the students. This closeness to the community is one of the advantages Smith said she has as a teacher. "It's nice to have those relationships, not just with the parents, but with the students as well," Smith said.
"Teaching comes from hard work and dedication. It's something I really enjoy, but I wouldn't be where I am without my administrators (Principals Matt Wright and Lisa Gray, along with Superintendent Annesa Thompson). They pushed me to get my Masters degree. They always push me for more," Smith said.
Smith also said she wouldn't be the person she is without her family: her parents Wayne and Duvvie Hendrix, her husband Shane, and their two sons.