Dorothy Harp
Monday, May 23, 2016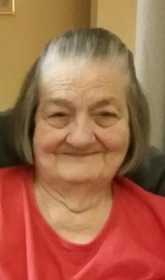 JONESBORO - Mrs. Dorothy Lee Harp passed away May 18, 2016 at St. Elizabeth Place in Jonesboro, Ark., at the age of 83 . She was born December 17, 1932 in Baldwyn, Miss., and had lived in Jonesboro for the past 12 years. Mrs. Harp was a sewing machine operator for a clothing manufacture in Baldwyn, Miss. She was a graduate of Bay High School and of the Baptist faith. She was preceded in death by three brothers, Bobby Lynn Harp, Johnny Barry Harp and Larry Michael Harp; and her parents, Lynn Guthrie and Verbal Ennis Maxwell Harp.
She is survived by her son, Ricky (Lynn) Harp of New Albany, Miss.; two grandchildren, Marla Gibson and Taylor Dawe; three great-grandchildren; four sisters, Nellie (Jodie) Mears of Baldwyn, Miss, Barbara Sprinkle, Pat (Jerry) Davidson, and Debbie (Tim) Buck all of Jonesboro, Ark; and one brother Claud (Francis) Harp of Jonesboro, Ark.
The family has requested a private disposition under the direction of Thompson Funeral Home of Trumann, Ark.
The family requests memorials be made to St. Jude Children's Research Hospital, P.O. Box 1000, Dept. 142, Memphis, TN 38148-0142.
An online register book can be signed at www.thompsonfuneralhome.net