Inez Rogers
Monday, May 23, 2016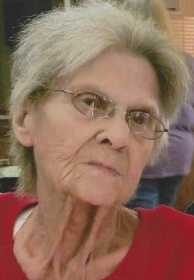 TRUMANN - Mrs. Inez Rogers passed away May 17, 2016 at the family residence in Trumann, at the age of 82 . Mrs. Rogers was born September 28, 1933 in Egypt and lived most of her lifetime in Trumann. She was a housewife and of the Baptist faith. Mrs. Rogers was preceded in death by her husband Opie Rogers; one son; one grandson; four sisters; one brother and her parents, John Ezra and Rosalee Ratliff Isom.
Mrs. Rogers is survived by five daughters, Opal Griffin of Panama City, Fla., Carolyn Burks of Anna, Tex., Linda Haase of Thomasville, N.C., Virginia Owens of Hardy and Judy Mooneyham of Trumann; four sisters, Ida Mae Radford of S.C., Genise Crews of Parson, Kan., Peggy Montes of Rolla, Mo. and Evelyn Hill of Okla., ten grandchildren and 13 great-grandchildren.
Graveside services were May 23 at Pine Log Cemetery in Brookland with Bill Willard officiating.
An online register book can be signed at www.thompsonfuneralhome.net