Rick's Diner provides home cooking in Harrisburg
Friday, May 27, 2016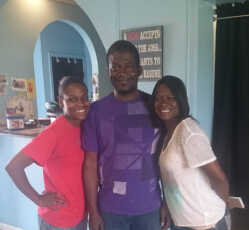 Every town in America has their favorite classic diner. A diner, by description, is a pre-fabricated fast food building that is often characterized by offering a wide range of foods. The first diner was created in 1872 by Walter Scott in Providence, R.I. As time passed, diners became more and more prevalent in small towns across our country. They are often located in whatever building is available. No matter what the building is, the food is usually the best in the area, and Poinsett County has one of the best diners in the state. Rick's Diner, on Illinois Street in Harrisburg, is busy feeding hungry people from all over Poinsett County.
After 30 years of working for other peoples' restaurants in Harrisburg, Rick Tate decided it was time to open his own. Not long ago, he opened Rick's Diner next to the building that housed Betty's Diner where he had worked. Rick's Diner is a family business. His daughter Sheena is there every day doing the day-to-day management. His daughter Tiffany helps when she is not working her regular job. And Mom Janice stops by to make her famous turkey and dressing when she can.
When Rick says they do home cooking, he really means it. Someone asked if he served potatoes from a box. His quick reply was, "Yes, but we have to peel them first."
Rick's Diner has a loyal following from wrestlers to politicians to just hard-working people with a big appetite for good food. One is able to see the love that goes into the food at Rick's when talking with the family. They are proud of the food they serve and genuinely care about their customers. Rick has watched generations grow up in Harrisburg. He now sees people from 30 years ago bringing their grandchildren into his restaurant. The locals have supported Rick's Diner by eating there and by directing visitors to "the best place to eat in town."
Their hamburgers are so good that one customer said he misses getting one when they are closed. He is one of the first to show up on Monday to get his Rick's burger fix. Using fresh, never frozen, beef from Food Giant ensures he is serving only the best. He may have to buy more than one to get through Memorial weekend. This holiday Rick's will be open Friday and Saturday but closed Sunday and Monday for some well-deserved family time for the whole staff.
Friday and Saturday nights they serve farm-raised catfish--both filets and steaks--and frog legs. They also serve a grilled catfish with vegetables. Rick smokes ribs and butts that are served with all the trimmings. The ribs fall off the bones and the butts are so tender you don't need a knife.
Daily plate lunches are served. People can order a plate just like Grandma or Mama used to make. Some call it soul food. Everyone calls it good. Greens, purple hull peas, corn fritters, and real mashed potatoes to name a few. The girls make the desserts including real banana pudding. Rick's Diner, located at 1207 N. Illinois Street in Harrisburg, also caters parties and events.
They are open Monday--Saturday 11 a.m. to 9 p.m., except for holidays. For more information, call 870-271-5001.