Rorex is county's new D.A.R.E. officer
Thursday, May 26, 2016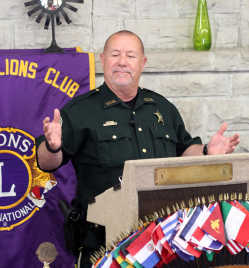 Steve Rorex, the new Poinsett County D.A.R.E. officer, was the guest speaker last Wednesday at the weekly meeting of the Trumann Lions Club.
Rorex is a lifelong county resident, having grown up in Weiner. Having done a few jobs over the years, Rorex said his heart was happy when he was serving people. "I've always loved helping others in any way I could," Rorex said.
After working on a farm after high school, Rorex decided that wasn't what he wanted to do for a living, so at 25 years of age he went to college. He went to work for the Harrisburg School District as a teacher. He moved into the administrative side later in school year and was the high school principal for ten years when he retired after 27 years with the school. "I was tired of change. It was time for a young person to step in and take the school to the next level," Rorex said.
Rorex didn't stay retired for long. Having been an auxiliary deputy sheriff for a few years, the chance came for him to become a full time deputy, and he took the offer. Having completed training at the police academy, which Rorex said was maybe the toughest thing he has ever done, he was ready to start his new career.
Rorex had the chance to take the D.A.R.E. position when Deputy Wayne Frazier retired, and he jumped at the chance. "I had known Chief Deputy Kevin Molder for a long time, and we talked over the years about how the school and sheriff's department work together. Now I'll get to do that with this job," Rorex said.
D.A.R.E. (Drug Abuse Resistance Education) was started in 1987 in Los Angeles, Calif., and there are now 15,000 D.A.R.E. officers. The program is in all 50 states as well as in 49 countries. "The program isn't just about drugs like when it first started. We now deal we school safety, internet safety, and bullying," Rorex said. "Internet safety is very important, especially with the technology that is available today."
Rorex leaves in two weeks to go do D.A.R.E. training and is looking forward to learning more about the job. "I've done a lot of research on the program, and the schooling will be a tremendous asset to me. I may not know all the answers now, but I'm fixing to learn so I will have those answers," Rorex said.