Wildcats conclude spring drills with scrimmage
Thursday, May 26, 2016
The Trumann Wildcats held their annual spring scrimmage this past Monday night at Wildcat Field to conclude spring drills. With 43 players on the roster, third year head coach Scott Waymire was pleased with the spring session.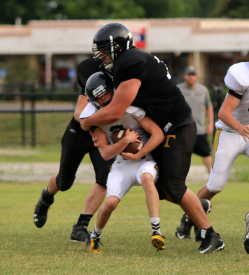 "This is the best numbers we've had in the spring since I've been here and it's the best makeup of a team we've had," Waymire said. "The kids attacked the off-season and most of them have been in the system for three years. It's the best spring we've had. We need to have a good June and July and keep getting better. We have high expectations and hope we can live up to them," Waymire added.
It didn't take the white team long to get on the board as the ground game ate up chunks of yardage with Cade Gartman capping the drive with a touchdown run to make it 7-0. Gartman added his second score of the first half a little later to make it 14-0 in favor of the white team. Jay Taylor Morgan got the black squad on the board with a touchdown late in the half as the white team took a 14-7 lead to halftime.
Gartman added another score early in the second half to make it 21-7 white team. The black team drove into white territory a couple time but came away empty each time. Gartman broke free for a long touchdown in the later part of the half before the white team came up with a stop on the two-point try to set the final score at 27-7 white.
Waymire was pleased with what he saw out of his team during the game. "I saw guys competing and that what we stressed in the off-season. It's not okay to finish second, want to win and want to compete," Waymire said after the game. "Depth is going to be a plus this year. My first year we had five offensive lineman and this year we will be at 20 plus lineman and that's a blessing," Waymire added.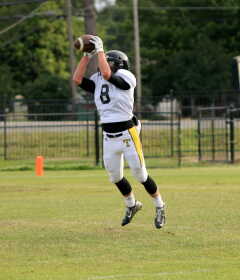 The Wildcats will have a couple teams camps in Walnut Ridge and a 7 on 7 in Heber Springs coming in June before the two week dead period at the first of June. "We hope to get a lot of our younger kids some playing time in these camps and get them ready for Friday nights," Waymire said. After the dead period the Wildcats will have their SST workouts and will go to a team camp in Wynne. "They will have a busy summer but the kids enjoy, and that makes it even better," Waymire added.
"The team had some success last year and the kids off the junior high team did as well and that's carried over to the start of this year," Waymire said. "We're excited to see what's going to happen," Waymire added.