Marked Tree spring game cut short due to weather
Thursday, May 26, 2016
Marked Tree's spring football game was cut short when a thunderstorm rolled through this past Tuesday as the blue team posted a 20-0 win over the white team at Don Lovell Memorial Field.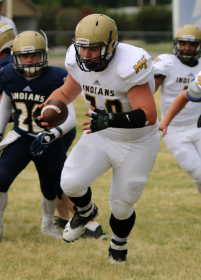 Paul Coleman got the blue team on board first as he scooped up a loose ball and sprinted to the end zone making it 6-0. The white team had trouble moving the ball most of the opening quarter against the swarming navy defense. Coleman recovered another fumble to stop a white drive as Nick Andrews fell on a loose ball for the navy squad to stop another drive. The quarter ended with the score still 6-0.
Jack Brown made it 12-0 navy with a short run in the second quarter. Issac Brown ran in the two-point conversion to make it 14-0. The white team continued to have troubled getting their offense on track. Coleman was in the right place at the right time as he scooped up his third fumble of the night and took it in for another score to make the score 20-0 navy. Jack Brown added the two-point conversion to make it 22-0. The storm put a halt to play with about eight minutes left in the second quarter.
"We looked sloppy at times, couldn't hang on to the ball," Marked Tree head coach Cody Wallis said after the game. "We had good intensity and the kids played hard. We saw some things we need to work on and we'll get those took care of," Wallis said.
"We have some camps coming up that will be good for the team. We'll continue to hit the weights to get stronger," Wallis said. "After the dead period at the end of June, we will hit it hard again starting in July as the season will be fast approaching," Wallis added.
Wallis was also happy with the number of players his team has. "We are 33 strong and the big difference from last year is we only lost two after spring drills compared to fifteen last year. We'll have a little better depth this year too," Wallis said.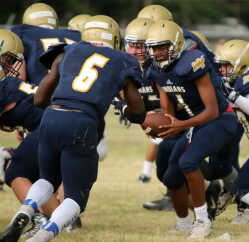 AJ Johnson led the navy team with 51 yards rushing as Jack Brown added 32 yards. AJ Johnson also had one catch for 30 yards. Coleman had two tackles, two forced fumbles and three fumble recoveries to lead the defense. Andrews had a fumble recovery.
Julian Booker had 26 yards rushing and 17 yards passing to lead the white team. Quentin Miles had one catch for 17 yards. Kylen Johnson recorded five tackles on defense with Booker adding four tackles as Chris Chavez, Chase Tilley and Nick Kinney each had three tackles. Chaz Simmons recovered a fumble for the white team.