Memorial Day recognized in Trumann
Friday, June 3, 2016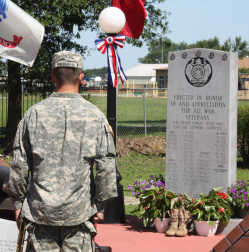 The Trumann community gathered at the American Legion Memorial Park Monday for Memorial Day to remember those men and women who sacrificed their lives for this country.
Ron Taylor, with American Legion Post 42, served as Master of Ceremonies. American Legion chaplain Gary Hill said the opening prayer, and Johnny Rye sang "The Star-Spangled Banner" and "God Bless America."
Representative Dave Wallace, a Vietnam veteran, served as keynote speaker. He said Memorial Day was a special day and one of his favorites. "Someone once said freedom isn't free. And there is someone else who has to pay that price," Wallace said. "We may worry about our mortgage payment or how to get our kid through school, but we're not going to worry about our freedom because that bill has been paid for us. We who are left behind must always remember those others: our friends, brothers, and sisters who made that sacrifice for us."
Wallace spoke about the constant, gut-wrenching fear that is a daily part of a soldier's life in combat. "Courage doesn't mean you're not afraid. I never knew a soldier who wasn't afraid. It does mean you go in anyway," Wallace said.
He also spoke about how the memories of combat never go away and how veterans always remember the men and women they fought with. "In the wee hours of the night, the sounds of combat come back to you," Wallace said. "Worst of all are the cries and screams of your buddies, the last breath of a friend. Take a little time to remember the marines, sailors, soldiers, and airmen who gave their lives for our freedom."
Grant Greenwell, with the 875th Engineer Battalion, played Taps. Veteran Service Officer Terry Long read the names on the monument listing those who gave their lives in military service, and Dave Wallace and Johnny Rye placed the wreath on the monument to close the ceremony.
The following is a list of all the names on the monument, which lists all those from Trumann and the surrounding area who gave their lives in military service:
*World War I: Tom Rowlett, Lee Soloman, Willie Francis, and Carl Halford.
*World War II: John Wright, Octavis Easter, James Redden, J.K. Persinger, J. Bartholomew, Jack Orbison, Lloyd Cantrell, J. W. Johnson, Glenn Blackwell, Henry Shores, Alton Stotts, Thomas Long, Enol Arnold, Rudolph Collius, John Forbess, Willie Pepper, Willie Phillips, Eugene Kaisinger, Rubye Edwards, Alfard Ballentine, and Kyle Lassiter.
*Korean War: Clarence Brown, Dewayne Douglass, William Adams, Hershell Qualls, Bobby Matthews, Willard Smith, and Herbert Brock.
*Vietnam War: James Teague, James Payne, Terry Birmingham, James Swink, Bobby Hastings, Aaron Vinson, and David Johnson.
*Iraq War: Erich Smallwood.