Justene Mitchell
Thursday, June 9, 2016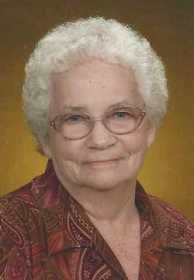 TRUMANN - Mrs. Justene McAnally Mitchell passed away Tuesday, June 7, 2016 at Jonesboro Health Care Center in Jonesboro, Ark., at the age of 85 years. She was born Saturday, June 28, 1930 in Tupelo, Miss., and had lived most of her lifetime in Trumann, Ark. Mrs. Mitchell was a former employee of Singer Company and a member of First Baptist Church. She was preceded in death by her husband, W.D. Mitchell; two sons, Dewayne Mitchell and Alvin Mitchell; two sisters, two brothers, and her parents, Ester and Euphel Timms McAnally.
She is survived by two daughters, Linda Williams and Diane (Jerry) Brewer both of Trumann; three sisters, Margaret Holbrook, and Aldean Lowery both of St. Louis, Mo. and Lugene Bass of Long Beach, Cal., one brother, Donnie McAnally of St. Louis, Mo.; five grandchildren, ten great-grandchildren; and four great-great-grandchildren.
Funeral services will be Friday afternoon at 1:30 p.m. in the chapel of Thompson Funeral Home in Trumann with Rev. Jim Holbrook and Rev. John Maley officiating. Burial will follow in Holly Springs Cemetery near Harrisburg.
Pallbearers will be Jason Cook, Chase Cook, Jordan Heavener, Gary Henry, Jessey "Dub" Hidgon, Jr., and Michael McAnally.
Visitation will be Thursday evening from 5:00 p.m. to 7:00 p.m. at Thompson Funeral Home in Trumann, Ark.
An online register book can be signed at www.thompsonfuneralhome.net