Collins Racing does it again
Thursday, June 9, 2016
The second annual MARS (Mid-America Racing Syndicate) Invasion was recently held at the Eagle's Nest Raceway in Horn Lake, MS. A pair of Trumann drivers took first and second place in the event.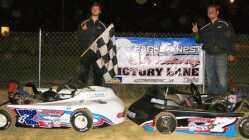 Ben Collins took top honors as he drove his B7 machine to victory lane. Ethan Parker came in second in his E7 car. The duo not only collected their cash winnings along with some Hoosier tires, but both are guaranteed a spot in the Winter Nationals Indoor Race to be held in Batesville, MS. The race, which will be nationally televised, will be held in late November.
"We had a good weekend," team owner Tim Collins said. "I'm proud of our guys, they race hard each time they get on the track. We wouldn't be where we are today without the support of our sponsors and we thank them for their support," Collins added.