Criswell awarded diploma while deployed
Thursday, June 9, 2016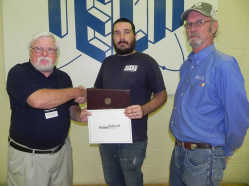 Matthew Criswell, 26, of Payneway, is a student in the Residential Construction Carpentry program at Crowley's Ridge Technical Institute in Forrest City. Criswell is also known as Sgt. Matthew Criswell of the Arkansas Army National Guard unit based in Hot Springs. He was slated to graduate from the CRTI Residential Construction Carpentry program on June 16, but has been deployed to serve with a Medical Unit in Guatemala before CRTI's Graduation ceremony.
Due to Criswell's military obligations and the fact that he has completed his requirements of the 37 week CRTI program, he has been awarded his diploma. During his CRTI training, Criswell earned his Contractors License, was inducted into the National Technical Honor Society, was named an Outstanding Student in his class, and also welcomed the birth of his second daughter on May 13.
Criswell has been a National Guard soldier since 2007.